Archetic Pack
Archetic Pack
Dunkel und geheimnisvoll zeigt sich das #Archetic Pack von adidas. Es sind die ersten offiziellen Torwarthandschuhe und Fußballschuhe von der deutschen Traditionsmarke im Jahr 2019.
Das Farbupdate dieser neuen Kollektion ist diesmal sehr schlicht, aber dennoch mehr als überzeugend. Der Predator Pro NC zeigt sich ganz in schwarz und wird mit roten Schichteln zwischen dem Innennahtschnitt verziert. Mit dem Haftschaum URG 2.0 überzeugt er außerdem mit einem grandiosen Preis-/ Leistungsverhältnis.


Dark, myterious and out to prove yourself. You're the archetic. Stadium or street, it's where you announce yourself to the world, it's where you earn respect and write your name into the hall of fame.
The colour update of the brandnew collection is very unpretentious but still convincing. The Predator Pro NC shows itself complettely in black and is decorated with red layers - perfectly matched to the Predator 19.1 football boots. Furthermore they have a great price/performance ratio with the URG 2.0 palm.
Note: These goalkeepergloves will be available soon!
Fußballschuhe
football boots
adidas Predator
Dieses herausragende Modell ist mit seiner innovativen und modernen Mixedsohle insbesondere für weiche sowie tiefe Böden und damit insbesondere für jeden Torhüter geeignet. Sowohl Schuhe als auch Torwarthandschuhe der Predator-Kollektionen waren in Sachen "Technologischer Fortschritt" schon immer einen Schritt voraus, garantiert ist neben den bewährten technischen Features ein extrem hoher Tragekomfort.
adidas Predator
If your command of the pitch leaves your rivals' tactics in tatters, you're ready to own Predators. Built for precision on firm ground, these football boots have a supportive knit textile upper for a locked-in fit that eliminates the need for laces and leaves more room for ball control. On the forefoot a grippy, textured coating adds confidence to every touch. A layer of responsive cushioning distributes stud pressure across the sole.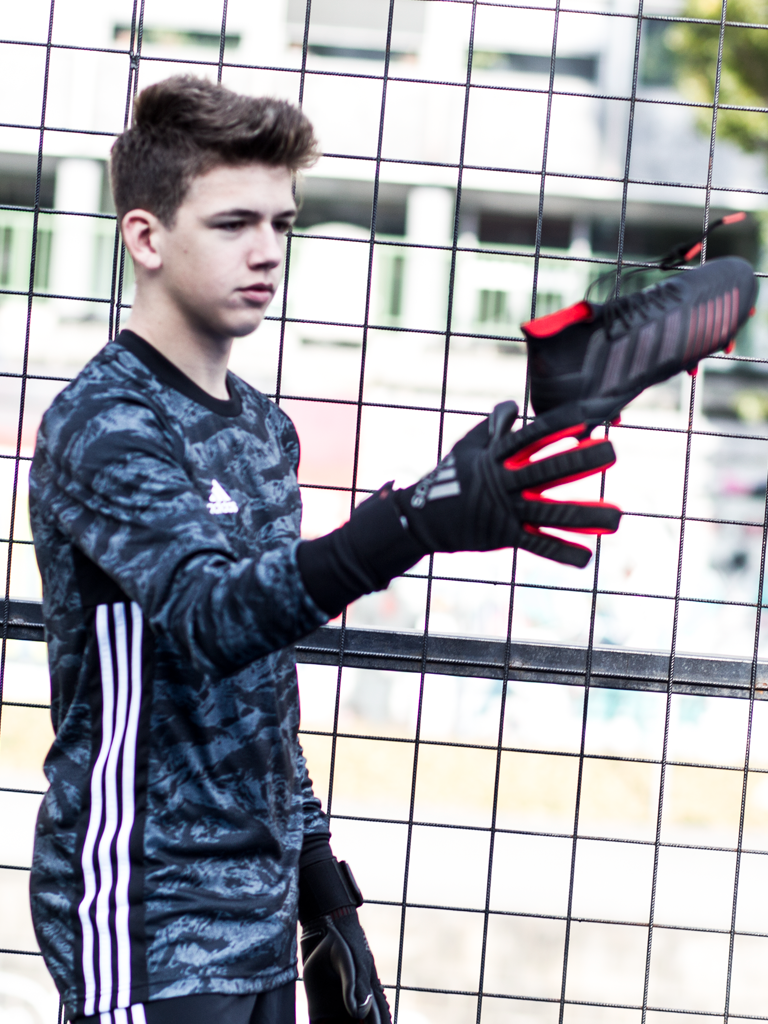 adidas Copa
Die Besten der Besten sind eine Klasse für sich – genau wie dieser Fußballschuh. Mit dem Copa wird jeder Ballkontakt zum genialen Schachzug. Dieser Fußballschuh sorgt mit einem weichen Obermaterial aus Känguruleder für ein superbequemes Tragegefühl, während der vorgeformte Vorfußbereich dir sichere Ballkontrolle garantiert. Außerdem umschließt sein stretchiger Schaft den Fuß passgenau für einen sicheren Sitz.
- Das innen liegende X-Ray Element garantiert einen sicheren Halt im Schuh für bessere Ballkontrolle.
- Das Obermaterial aus weichem, hochwertigem Känguruleder sorgt für ein ultrabequemes Tragegefühl, während der strukturierte, gewirkte Schaft eine angenehme, sockenähnliche Passform garantiert.
- Das Obermaterial aus Leder ermöglicht mit der Fusionskin Technologie ein nahtloses Design und eine verringerte Wasseraufnahme.
- Die leichte Torsionframe Außensohle mit Torsion Ribs für mehr Grip und Traktion beim Antreten ermöglicht explosive Power auf nassem Naturrasen.
adidas Copa
If you can't have the last word with your first touch, these football boots are out of your league. Copa helps transform every stroke of your foot into a stroke of genius. The soft K-leather upper on these laceless boots helps you create in comfort, while a moulded vamp brings you closer to the ball for assured control. A stretchy collar wraps around your foot to lock you in while you leave your mark on the game.
adidas X
Bei diesem Fußballschuh für weiche Böden konzentriert sich adidas aufs Wesentliche: Geschwindigkeit. Der niedrig geschnittene Schaft und die Zunge aus Vier-Wege-Stretch garantiert dabei einen sicheren Sitz, während das dünne Obermaterial aus Mesh dir ein direktes, reaktionsfreudiges Ballgefühl gibt. Zusätzlich ist die Außensohle für noch weniger Gewicht perforiert und ermöglicht dir so abgefahrene Moves.
adidas X
If you can supercharge your game while your rivals are running on empty, you're cleared to fly in X. The thin mesh upper on these ultralight football boots delivers a minimal feel and a natural touch, while the outsole is perforated to shed weight. A low-cut collar and moulded heel combine to lock you in for the ride, eliminating the need for laces.
adidas NEMEZIZ
Der Nemeziz ist für ein Ziel entwickelt worden: explosive Antritte. Diesmal hat der Fußballschuh von Messi & Co eine frische blaue Farbe bekommen. Mit den weißen adidas Streifen sticht er garantiert aus der Masse. . Das 360Agility Bandage System, welches am Mittelfuß angebracht ist, besteht aus dem sogenannten "Torsion Tape". Dieses Tape wurde entwickelt, um keine medizinischen Tapes mehr unter dem Socken tragen zu müssen. Das bedeutet, es wurde für zusätzlichen Support und Stabilität entwickelt. Die Öffnung des Schuhes wird Dual Lock Collar genannt. Der Sinn dieses speziellen Kragens ist es, optimalen Halt schnellen Richtungsweschseln zu sichern.
adidas NEMEZIZ
If you've got the tricks to turn a match on its head, you're ready to weave your magic in Nemeziz. Created for unplayable agility, these football boots have a unique bandage construction that provides both compressive support and complete flexibility. A dual lock collar secures your ankle when you're ready to explode into action.